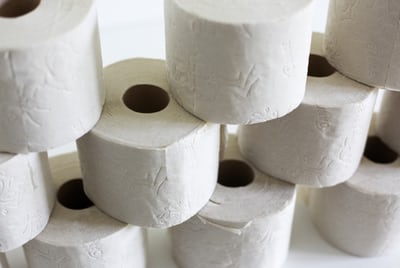 So, you are stuck at home contemplating how you are going to survive without your weekly pit stop to a McDonalds drive through or your daily cup of overpriced Starbucks coffee but safe in the thought that you have 10 years supply of toilet rolls just in case your partner has an undesired reaction to your new found culinary skills in the kitchen.
You have had a rummage around in the back of the food cupboard and found a half a dozen of every type of tinned bean known to mankind (some of which you never knew existed), a mouldy tea bag, multiple spice pots and jars of chutney, a 5kg bag of pasta enough to supply an army of Italians and finally an unopened Christmas pudding that went out of date in the 1990's.
After the disappointment of your food cupboard exploration you move on to the fridge and freezer in the hope your partner has secretly turned into an American survivalist and stashed away a load of frozen goodies or at the very least your favourite batch cooking leftovers of chilli con carne, but you emerge from the freezer sorely disappointed that the only items left are a ready-made pizza, a bag of peas and a years supply of blackberries left over from your foraging exploits last summer.
Eventually you resign yourself to the fact you may have to survive on beans on toast for the next 3 months and if that's not bad enough your grownup children have been sent home from university and have raided your alcohol cabinet, so you can't even drown your sorrows with a glass of wine in the evening. You console yourself with the fact that the off licence's are still considered "essential" so you can at least order a shed load of alcoholic beverages and there's always an option to do some online shopping If you cant wait for 6 weeks to book a slot.
You may be wondering where this is going and you will have to excuse my sarcasm, this is my first ever blog post I have written and I wanted to add some humour into peoples day! I have been thinking a lot about how people can make the best of what they have in their food cupboards, freezers etc and what sort of hints and tips you can use to maintain a healthy eating routine whilst at home. This is particularly pertinent at this current time in order to minimise the trips you make you to the shops, whilst at the same time avoid panic buying and fortify your immune system so it can fight off infections.
Eating to boost your immune system
There is numerous research to suggest that certain nutrients and types of foods can help support your immune system and strengthen your constitution. Try mixing your diet up and adding some more of these food groups, vitamins and minerals in to your meals during quarantine:
Vitamin C containing foods: Found in citrus fruits like oranges, lemons, grapefruits, kiwi and papaya. Broccoli also contains high amounts of naturally occurring Vitamin C. Your body can't produce Vitamin C so this must come from your diet.
Zinc: Found in meats, shellfish, eggs, nuts, wholegrains and legumes (chickpeas and lentils).
Ginger: Is known for reducing inflammation and is also thought to play a role in strengthening your immune system.
Turmeric: Curcumin which is inside turmeric has antiinflammation properties and also thought to help fight flu.
Garlic: Research has suggested that garlic is protective of your circulatory system helping to reduce blood pressure. Garlic also contains high amount of vitamin C.
Brocolli: This contains lots of healthy vitamins and minerals including Vitamin A, C, E as well as fibre and antioxidants.
Spinach: Rich in Vitamin C as well as antioxidants and beta carotene that helps increase the body's resistance to infection.
Have a water break
Water is vital for many bodily functions, from regulating your body temperature to transporting nutrients in your blood or removing waste products.
It is thought that water plays an important role in helping support your immune system by keeping surfaces of the bronchi moist and stopping viruses and bacteria from sticking to surfaces and invading.
The recommended amounts of water for an adult are 6-8 glasses a day, and more in hot weather or if you are exercising!
All non-alcoholic drinks count towards hydration, so tea, milk, coffee and fruit juices still count (just be aware of the excess sugars and calories)!
Make sure you are taking regular fluid breaks as you would in the office or have a water bottle by your work station and take regular sips.
Hints, tips and tricks for isolation preparation and eating
Don't panic buy!: Luckily panic buying seems to have calmed down now that people have realised there is plenty to go around!


Stick to a routine: Try and keep some normality to your day by sticking to your usual daily eating patterns. Planning your meals in advance can help with this.


Culinary skills to the test: For many, the countless hours of spare time trapped inside provides an opportunity to hone your cooking skills and learn some new recipes. Cooking is also good for your mental health and can be therapeutic. It also helps those with a tight budget and gives you an opportunity to make healthier choices.


Batch cook: Simply double what you usually cook and freeze or refrigerate the rest for later. This ensures nothing goes to waste and you have a healthy quick go-to option when you are too tired to cook!


Choose tomatoes: Tinned tomatoes are a store cupboard essential and are so versatile as they can be used as a base ingredient in lots of meals such as pasta sauces and curries.


The humble spud: potatoes are great carbohydrate staples as they don't perish easily and are great for making many dishes. My favourite no fuss spud dish is simply an oven jacket which requires no preparation, is cheap and healthy and you can easily add some beans, cheese or whatever topping you want. Sweet potatoes are an even lower GI alternative.


Spice it up: Get experimental with your spice rack, now's the time to look for recipes that contain interesting spices in to jazz up the flavours of your usual staple meals.


Freezer bags to the rescue: Don't fret if you don't have large freezers or space. Use Zip lock freezer bags to freeze food items. They take up much less space than mountains of plastic containers! Plus the bags are washable and reusable too!


Don't forget lunch: If you have hungry kids at home or you find yourself skipping to the fridge to search for your 10th unhealthy snack of the day, try and make a healthy packed lunch in advance like many of you would if you were going off to work. You can prepare sandwiches the night before or healthy dinner leftovers. Just because you are working from home doesn't mean you should let your health habits go out the window!


Choose lasting fruit and veg: When you do venture to the shops try and pick up veg and fruit that last a little longer e.g. beetroot, pumpkin, potatoes and carrots.


Stock up on tinned and dry legumes: Chickpeas and lentils are great for adding protein sources to your meals.
Make your own bread: If you can't find bread in your supermarket or fancied a more rustic option why not make your own healthy breads.

You could have a go at making a sourdough, wholemeal or granary loaf to share.

Freeze perishables: If you aren't going to eat food in your fridge before it goes off, there's lots you can freeze for a later date such as fruit, vegetables, meats and cheese.


Make a mocktail to stave off your alcohol cravings: Although it's tempting to turn to drink during hard times, research has shown alcohol when consumed in large quantities can suppress your immune system, not to mention the other ways in negatively impacts physical health. It's also not a functional way to cope with anxiety, depression or declining mental health and can exacerbate problems. Try a healthier mocktail alternative and chop up some fresh fruit, add limes, mint etc for added punch.


Enjoy a guilty pleasure: Remember it's still important to enjoy a guilty pleasure once in a while whether that's a couple of scoops of ice cream or the odd glass of wine - everything in moderation!
Store Cupboard Staples
Canned and preserved goods below will keep for long periods of time if kept at a moderate temperature. They are a good way to consume essential vitamins and minerals and supplement your meals.
Tinned tomatoes/passata: Provide a good base for sauces and stews.
Pickles/Chutneys: Dig into last years garden produce like tomato chutney, piccalilli and jars of pickled veg. They make a nice addition to salads, meat and dairy items.
Garlic: Great for heart health and gives that extra flavour to a variety of dishes. Keeps for a relatively long time as long as its kept dry and can be frozen.
Canned Fish: Mackerel, Sardines, Tuna and Anchovies are good sources of omega 3 and 6 fatty acids, and a great alternative to fresh fish as they last a lot longer.
Canned Beans: Black beans, kidney beans, butter beans, cannellini beans, chickpeas are great sources of protein and versatile.
Canned Veggies: Corn, carrots, peas, green beans (look for low sodium content).
Canned Fruits: Peaches, pears, pineapple and mandarins.
Canned Soups: look for low salt content and be mindful of fat content. Try and choose the vegetable based ones rather than cream.
Good Grains: Quinoa, lentils and bulger wheat are rich sources of fibre and essential omega fatty acids. They make a great base for stews, soups and salads.
Pasta and Rice: Are staple carbohydrate sources. Choose brown options if possible as they are less starchy so provide slow release energy and are a good source of fibre.
Chicken, Beef and Veg stock: Great bases for stews, soups and gravies.
Dried Fruit and Seeds: Raisins, apricots, sunflower seeds, flax seeds, and chia seeds are extremely rich in antioxidants and anti-inflammatory properties. They also contain heart healthy fats (unsaturated). Can be used to top cereals, yoghurts and baked goods.
Peanut butter: Contains heart healthy fats, an excellent source of protein and fills you up. You can spread onto apples or add to smoothies.
Sharing Is Caring!
As we are in a crisis, a good way of giving something back is to consider sharing leftovers with your neighbours or ring a friend and swap food recipes. You could also find out if there are vulnerable people in the community that need their shopping done.
There are numerous examples of communities pulling together at this difficult time and I thought I would share a personal example with you all from my mothers experiences self-isolating herself of the Isle Of Wight at my brothers house.as a good mood booster!
The bit of background to this is that my mother was extremely ill just before Christmas last year with lung related problems and sepsis. After a couple of long stints in Treliske, and numerous scans and tests she went to convalesce at my brothers house on the Isle of Wight; as part of her slow road to recovery. She had been feeling extremely lonely and isolated as she did not know anyone in the local area. This was exacerbated by the social distancing measures put in place and the government lockdown.
I know what you are all thinking...this doesn't sound like much of a mood booster to me. But the following example of community spirit is very encouraging. Despite my mum being all alone over the last few months, she has been receiving some incredible support and acts of generosity from neighbours, complete strangers and friends of my brother.
The story goes: A friend of my brothers called Tanya dropped off little colourful hyacinths to various friends as a little way of spreading some cheer. Not long after this jars of soup and chocolate bunnies started appearing at her door. Then Tanya did a shop for my mum Jennie, who in return baked her a cake. She couldn't eat my mum's cake fast enough so persuaded Jennie to give one to the neighbours who she hadn't been introduced to before. I am assuming the cake wasn't launched over the garden fence, but that some kind of social distancing was maintained by leaving it on their doorstep. The neighbours in return offered to dig a veggie patch for my mum (who is desperate to keep busy) by clearing a small area in my brothers' garden for an allotment to remind her of home.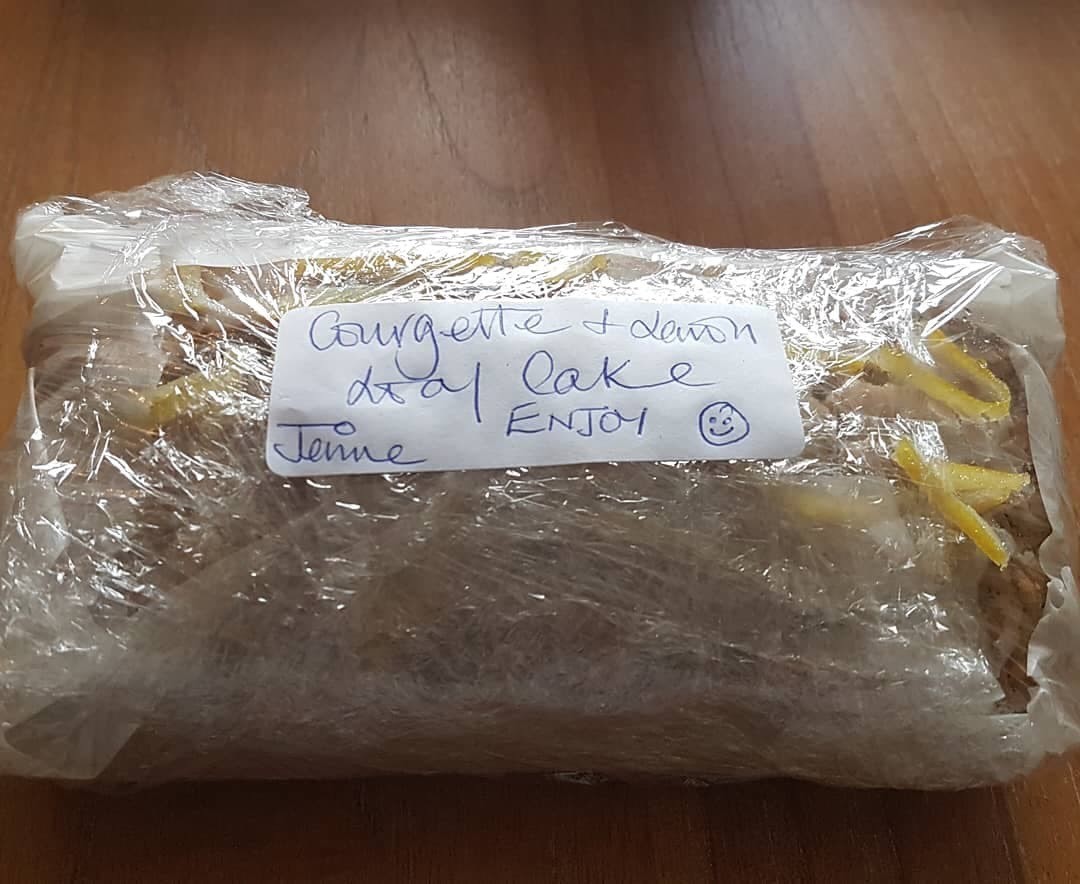 In response to the kind act of digging a veggie patch my mum baked more cakes. I reckon cake must be some form of currency on the island. My brothers friend Tanya then introduced her to another friend called Rachel who gave my mum seeds to grow her veggies. Jennie then baked Rachel a cake as a thankyou gesture, so Rachel also drops off some leeks and a tomato plant to Tanya. Tanya in return sends some pictures of her new beagle puppy and so on and so forth…
I would like to say this little story ended on a high. However, the most recent instalment of news from the island is that the mischievous puppy of Tanya's devoured the 2 cakes my mum baked last, so as you can imagine she wasn't best pleased. At least the Puppy enjoyed my mums baking. He gave it a round of 'appaws', he thought it was 'mind-beaglingly' tasty but that's another 'tail' to tell. Had to get a few dog related puns in!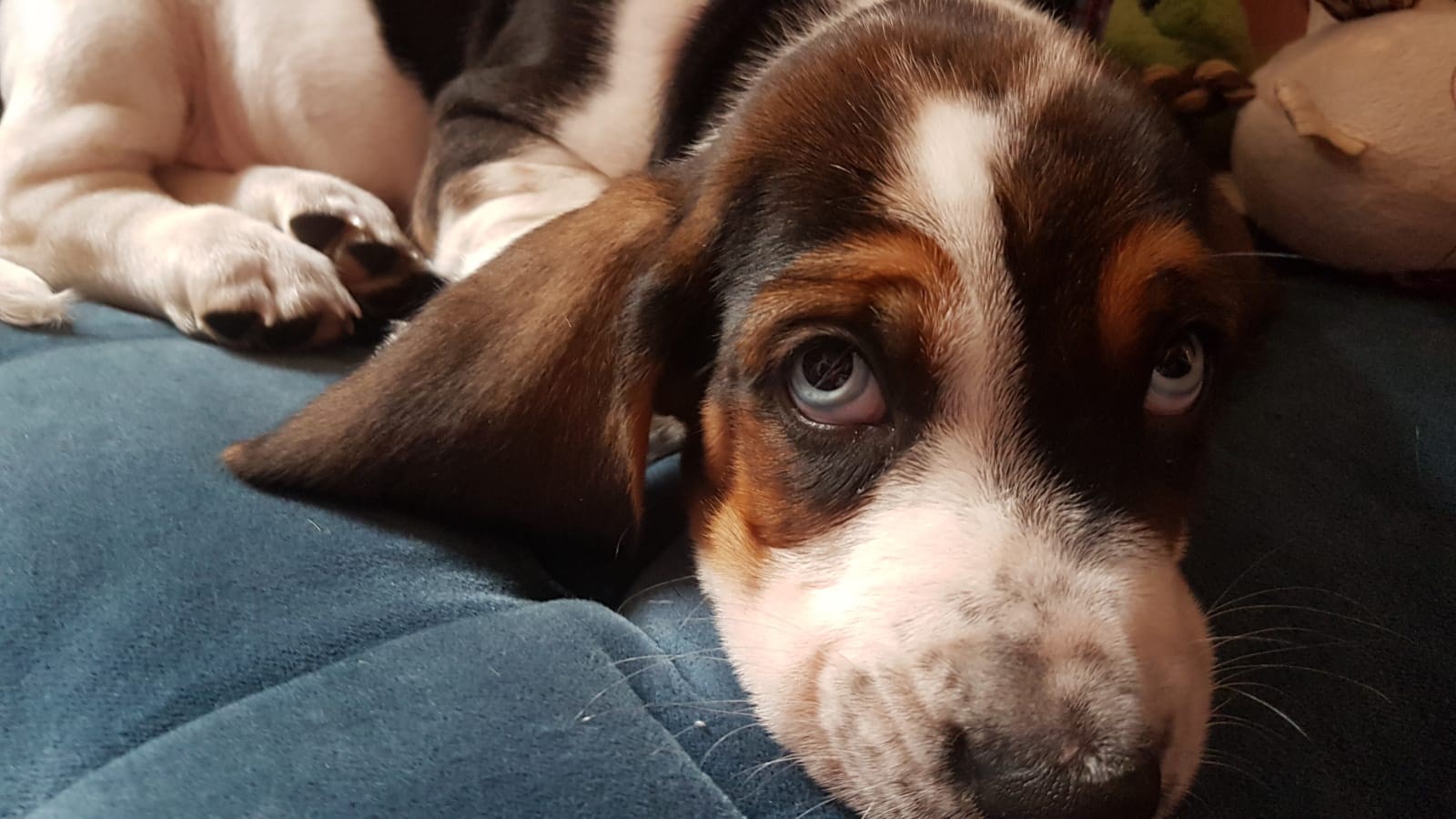 Thanks for reading, I hope you enjoyed my blog, I hope you keep safe and well and enjoy cooking and consuming healthy delicious foods to boost your health and morale!
By Frankie Hayward
If you are unsure what a balanced diet consists and would like more information on how to eat healthy, check out The Eatwell Guide.
< Workout Wednesday #2
Mental Health Monday #1 >