I was born and bred in London, having only lived in Cornwall for 5 years and would probably be affectionately called an 'Emmet' by the Cornish. Moving down here I was astounded at just how many walking opportunities there are in Cornwall and how lucky we are to have such an incredibly beautiful county to enjoy. It certainly beats the London underground tube or train any day of the week!
In this blog I will teach you about a little-known walking route and some fascinating Neolithic sites in the Wild West of Cornwall, on the Penwith Peninsula. This will form part of a series of walking blogs we will be releasing over the next few months discussing our favourite walking routes in Cornwall and photographing some of the beautiful scenery and wildlife along the way. In today's blog I will also explore some of the health benefits of moving by foot, what I have noticed about exercise patterns during the pandemic and talk about the major trails and footpaths across Cornwall to inspire you to get outdoors and exploring.
The Liberation of Lockdown Exercise & Walking for Wellbeing
Many of you reading this blog may have heard about some of the benefits of walking so I won't go into great detail, but I can't stress enough how good walking is for both your physical and mental wellbeing. Walking and exercising outdoors is particularly pertinent during these anxious uncertain times. One of the positives from lockdown and the drastic changes in life circumstances seems to be a heightened awareness of the importance of taking care of your own health. The good news is that many people that weren't necessarily active before and in sedentary jobs are now finding the time to increase their activity levels.
I found it particularly amusing and ironic to notice that when Boris Johnson announced the first lockdown measures and 'restricted' us to one form of exercise a day, it strangely liberated society more and provided some form of collective goal. I observed that people were going out of their way to factor in one form of exercise into their day, whereas in the past many of us would have driven home from work and collapsed on our sofa's. I started to notice more people were getting out on their bikes, now that the roads were gloriously free from traffic. More people were also taking a lunchtime stroll or swimming maniacs like myself were getting paddling pools in a desperate attempt to submerge in some body of water for sanity purposes.
People started joining Strava, an exercise app that before only the keenest of cyclists, runners and triathletes were savvy with. Even the success of our very own Health and Wellbeing Council Strava challenges are testament to the increased want and need for people to exercise and stay connected whilst exercising. People from across the Council have been engaging and racking up the walking miles this month for National Walking Month, which has been fantastic to see.
Walking is one of the easiest, most accessible activities around, you can do it virtually anywhere and very little specialist equipment or expensive gear, unlike other sports. One brisk walk a day is enough to cut your risk of early death by up to 15% (Public Health England). For adults walking 30 minutes a day 5 times a week can dramatically cut the risk of developing heart disease, diabetes, obesity and some cancers. It can also help reduce your cholesterol and high blood pressure and help improve sleep. Walking can burn as many calories as jogging over the same distance and it has much lower impact on your joints.
Walking is also incredibly good for your mental wellbeing. A mental health report from the charity Mind found that it can reduce anxiety and depression and states that being outside in natural light can lift a person's mood.
I'm sure many of us will have experienced that inner lighter, peaceful and joyful feeling after being outside and exploring nature. Walking or exercising outdoors adds the endorphins to the mix as well which can give you a wonderful buzz! Green exercise as it's known allows us to discover an affinity with nature and stay more connected with what's going on around us. In effect we learn to tune into the environment and drown out anxious or distressing thoughts and stresses from the day.
The more time you spend outdoors the more you start to notice small things. This helps us to develop a sense of gratitude and grounds us as individuals. You begin to appreciate nature and what's around you. Noticing simple elements such as dew drops on a leaf, the rustling of leaves in the wind, bird song or feeling raindrops on your face can all have a positive effect on your mental health.
A Survey from Natural England showed that 88% of people cited spending time in nature makes them feel calmer and more relaxed and 86% say they feel refreshed and revitalised." A walk by the sea can lift our mood according to a survey carried out by the great British walk campaign 2015. Check out the National Trust South West top coastal walks. You can also Explore St Just Coastline, Hollywell and Crantock/cubert trails and Tintagel trails.
Walking is a powerful way to connect to places we love whether you challenge yourself with a climb up a mountain or join a dog walking group. Learn about 'the places that make us' on the National Trust Website.
6 benefits of walking:
Free: no need for expensive equipment or memberships.
It is a moderate, low impact activity - fantastic for those who struggle with joint pain when doing more vigorous activity.
Walking is versatile: walk almost anywhere at any time.
Ability adaptable: Can start slowly and easily build up gradually, ideal if you are unfit or have a long-term condition and can be used as a gateway to more vigorous activities.
Multi-purpose activity: Facilitates social interaction and getting from A-B.
Great for the planet: The recent crisis has changed our behaviours and attitudes to climate change.
Chapel Carn Brea 360 & West Cornwall Neolithic Trails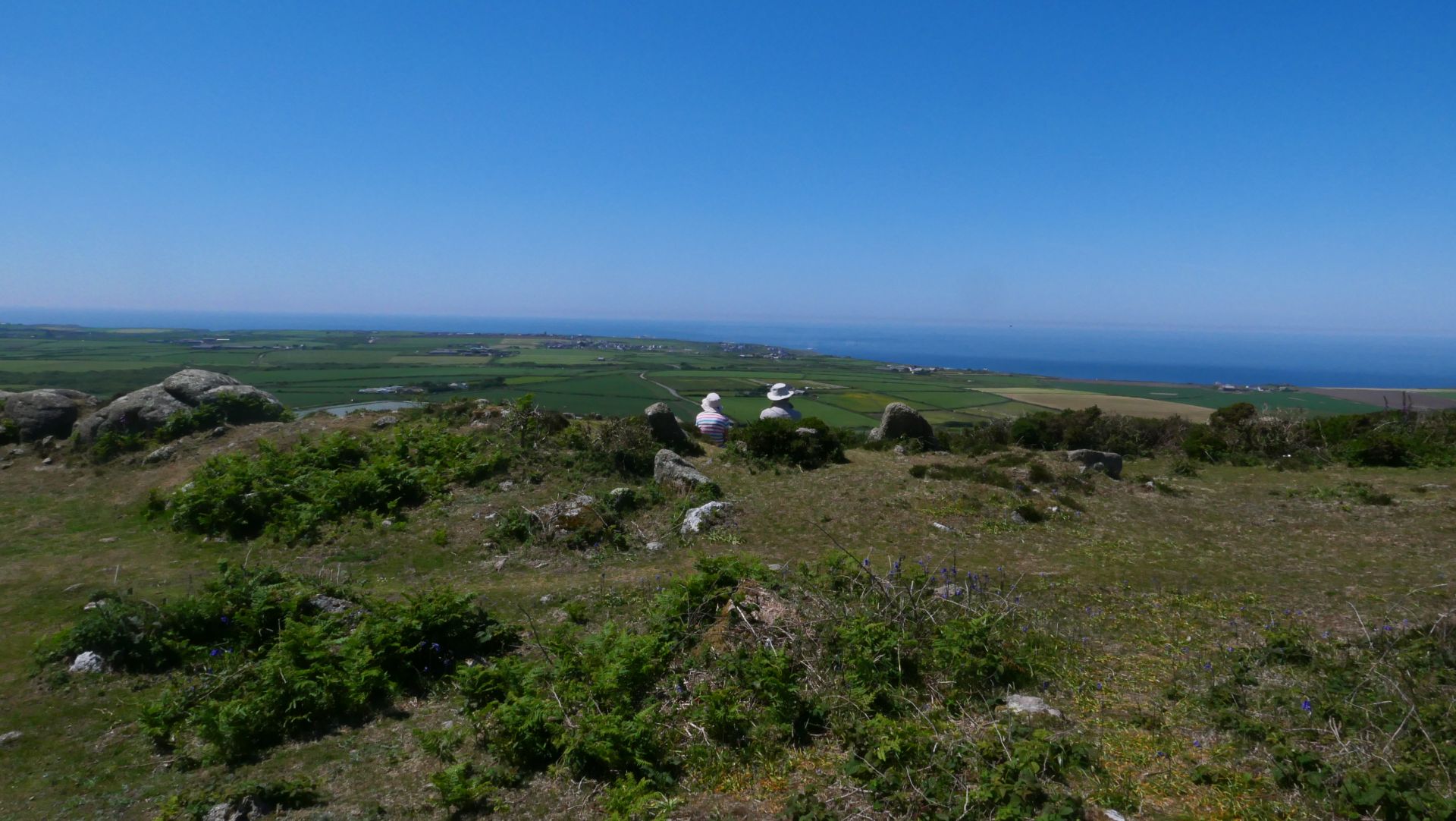 Not to be confused with Carn Brea in Camborne, this lovely walk offers stunning 360-degree panoramic views of the Penwith coast. It is one of my favourite spots in West Cornwall for walking, photography, and generally for enjoying spectacular views.
There is a National Trust Car Park at the foot of the Carn. The hill is situated 5km south of St Just and 3.5km east of Sennen Cove. It offers a unique perspective of different sides of the coastline. From the top of the can you can view many landmarks including Cape Cornwall, the Brysons, Lands' End Airport, St Michaels Mount, Penzance, Sennen and Wolf Rock Lighthouse. On crystal clear days you can even see the Isles of Scilly!
Chapel Carn Brea is often described as the first hill in Cornwall from the west and rises nearly 200m above sea level. As with many sites in this area of Cornwall it has strong historical significance with the remains of Neolithic and Bronze age activity and the remains of a 13 Century chapel for which its name derives. On the summit there is a chambered cairn which is unique to Cornwall and the Isles' of Scilly. It is thought to have been used as a burial chamber and may be connected to other ancient burial sites in West Cornwall.
A large beacon stands proudly at the top of the hill. This Beacon was maintained by hermits living in the chapel of 'St Michael Bree'. The Beacon was mentioned in a 13 Century manuscript that records that the ecclesiastical light was used to guide travellers at sea or fishermen and as a communication to stop invasions. It is the earliest record of a navigational light in Cornwall. The beacon is still lit every year to celebrate summer solstice.
As it's just a stone's throw away from where I live I regularly pop out for walks there. In the past I have been known to do a few hill reps up there (great for getting your heart rate up) or cycled past there en-route to St Just and beyond. At the moment, I often amble up there in my lunch break, taking advantage of the beautiful weather and enjoy the spectacular flora and fauna on offer, some of which I photograph. At this time of year there is a blanket of vivid pink foxgloves and bluebells adorning the hedgerows and the edges of the path up the Carn. I also spied the majestic wild ponies that graze amongst the heathland and bracken.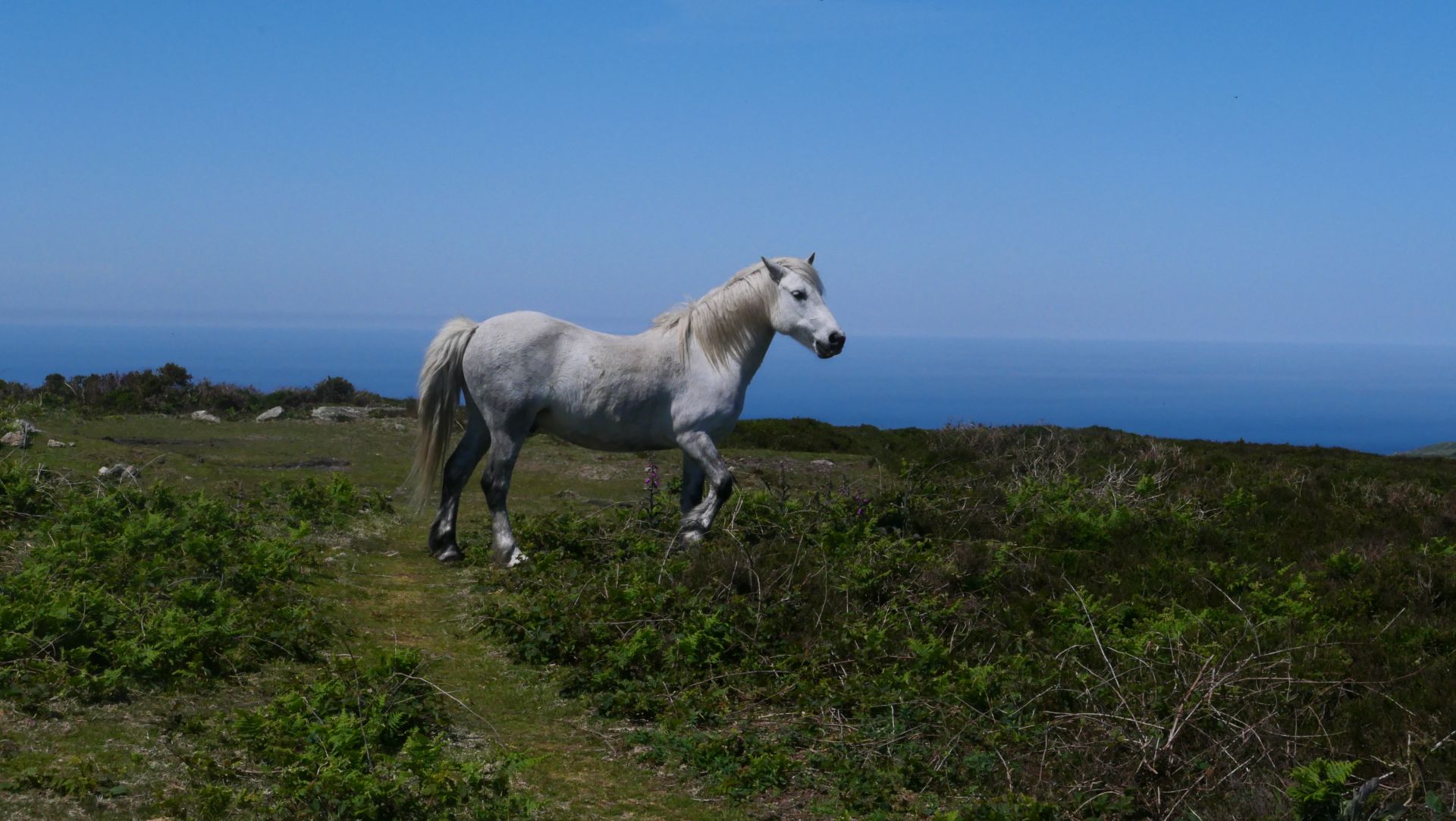 The walk is very short from the car park to the top of the Carn so perfect for a brisk lunchtime jaunt and offers an easier route for people just getting into walking with a gravel path up to the top, so easy on foot. For those that want to walk a bit further or explore more of the area there are plenty of paths that link to the Carn. Follow the National Trust way markers that disperse from the top and you can walk between the bracken and burial rocks and around the outside perimeter of the Carn.
To add some more miles, you can cross the road opposite the car park at Carn Brea. Follow the Public Footpath sign that takes you through a gate and a gravel path. If you continue along you cross a field and start ascending towards another Carn and Bartiney Castle (not a castle but the remains another iron age site). I walked along there last week and to my delight I heard the distinctive calls of cuckoos and saw one take off not 100 yards from where I was stood. The top of this Carn also provides stunning views and is a good spot for catching a sunset snap.
Discover Goblins Gold
If you carry on from this, a mile to the Southeast you can reach an English Heritage site named Carn Euny and its Fogou, another magical Neolithic site. It is completely free to walk around, and you can read English heritage signage to learn about the historical significance of the site. It has a very mystical feeling to it and it's a fascinating place to visit, I definitely recommend a visit!
The last time I walked there I witnessed an amazing phenomenon that I had never come across before. If you enter the Fogou at Carn Euny, once your eyes adjust to the dim light in the main chamber you will see what looks like little fire flies flashing green. The last time I was there I took some images and went home to research what this phenomenon is. I now know that it is in fact, bioluminescent moss that glows a green gold colour. It has many names including 'goblins gold', 'dragons gold' and 'luminous moss'. This moss has adapted to grow in low light levels. For more information you can browse the English Heritage site.

The Major Trails and Footpaths of Cornwall
According to Sustrans over half of people in the UK live within walking distance of the National Cycle Network which is for walkers, cyclists and wheelchair users. 1/3 of the 12,000 miles of cycling networks are free from motorised traffic. Cornwall has lots of these walking friendly routes and now that I have convinced you that walking is a great idea and you are all raring to get out an explore your local area. Here is a basic run down on the many different trails and footpaths scattered around all parts of Cornwall.
National Cycling Network Route 3 part of the Cornish Way, a network of over 200 miles of interlinking trails on mainly quite/traffic free routes. The Cornish way connects Bude on the north coast to Lands' End via Redruth, Camborne, Hayle and Penzance. The National Cycle Network is made up of more than 14,000 miles of walking and cycling routes.
Here are some of the named trails below:
St Piran Trail
North Cornwall Trail
Mineral Tramways
The First and Last Trail
The Engine House Trail
The Coast and Clay Trails
The Camel Trail
St Michaels Way
A 12.5-mile walking route between Lelant and St Michaels Mount. Due to it's historical significance, St Michaels way is the only footpath in Britain that is part of a designated European Cultural Route. It forms part of the pilgrim routes that leads to St James in Cathedral in Santiago de Compostela. Look out for the shell symbol to follow the route.
The mineral Tramways Network is based in Camborne and Redruth which offers 37.5 miles (60km) for walkers, cyclists and horse riders across 7 separate trails. Created by the Mineral Tramways Heritage Project. You can follow the first railway links constructed to transport ore and supplies from mines at the ports of Portreath and Devoran. The network consists of the Portreath Branch line Trail, Redruth and Chasewater Railway Trail, Tehidy trail, Coast to Coast Trail, Great Flat Load Trail, Tresavean Trail, Tolgus Trail.
Part of the South West National Nature Reserve (NNR) and is 480 hectares of land. It has a 7-mile multi-use trail that are surfaced and has linking routes to nearby Tregoss Moor.
The Clay trails form part of the National Cycle Network. Explore Cornwall's china clay industry and heritage on Bugle, Wheal Martyn and Par beach trails. The trails are surfaces so accessible all year around and some lead to the Eden Project. For more information visit the council intranet.
Mount Edgcumbe & Rame Head Peninsula
A historic estate with large house and grounds by the sea and a designated Area Of Outstanding Natural Beauty (AONB). It has some lovely walks ranging from an easy circular route, to a steep coast path climb, explore woodlands, formal gardens, heath covered headlands, historic buildings and much more. Click here for 5 walks around Mount Edgcumbe.
Heartlands free visitor attraction can be reached via the Mineral tramways network and perfect for a little walk in the heart of Camborne.
Further signposting
My favourite walking books and guides
Nine Walks around St just and St Ives
Shortish walks near Lands' End
St Michaels Way- Coast to coast in West Cornwall
Sustran National Cycle Route 3 Trail Maps
< Your weekly dose of 5 ways to wellbeing! 04/06/2020
Hobbies at Home #8 >