Want to make a difference in YOUR community for someone IN NEED of your help and support?
Everyone can be great because anyone can serve. You don't have to have a college degree to serve. You don't have to make your subject and verb agree to serve. You don't have to know about Plato and Aristotle to serve. You only need a heart full of grace. A soul generated by love. Dr Martin Luther King Jr.
Contact Martin Webb at Volunteer Cornwall
Tel: 01872 266991
Mob: 07595 202410
Opportunity of the month
Volunteer stories
Opportunity of the month
Community Volunteering support
We are working with Volunteer Cornwall to enable school staff to become fully involved in their local community opportunities, particularly working with you as part of your INSET or training days(or equivalent). Below is a list of the recent Volunteering opportunities;
Abbeyfield Residential Home, (Various locations): Abbeyfield are seeking a few volunteers over the winter to help with their campaign to combat loneliness. They have plans to help support residents with a playlist project and crafting projects.
Camborne Foodbank: The Foodbank in Camborne operates out of the Centenary Methodist Church next to the Tesco Superstore. Like the Truro foodbank you would have the opportunity in a small group to volunteer in sorting donations to be given to people in need of food parcels. This would be a half a day volunteering on a Tuesday Afternoon.
The Camborne foodbank also has a warehouse which can host up to a group of 6 people for a full day to help accept deliveries of food and to prepare food parcels to be sent to other local foodbanks.
CHAOS Group, Roseland and Truro: CHAOS are community charity working with young people and adults with learning difficulties as well as older people at risk of isolation. They have a community café in Truro with opportunities for small numbers of volunteers, mainly gardening and outdoor maintenance. They also have opportunities on their farm site on the Roseland, where their clients come for all sorts of activities. Volunteers here can get involved in practical work like painting and decorating or gardening, as well as working with the clients (and staff) on animal care, crafts and workshop activities and other activities for a taster of the work they do.
Ellis Haven, Duloe: Ellis Haven is a charity that offers relief to families with children suffering long term and life limiting illnesses by offering families holidays. They are seeking between 4-6 volunteers at their property in Duloe to help with gardening and painting.
Bodmin& Wenford Railway: A great opportunity to get involved with a Cornish heritage museum. Tasks will vary on a group-by-group basis by may include tidying hedge rows near the line or helping to paint some of the many steam engine trains based at the museum.
Acorn Theatre, Penzance: The Acorn Theatre is a community theatre in Penzance which hosts a variety of acts throughout the year. The theatre is looking for volunteers who can help get the theatre ready with cleaning and tidying of the theatre as well as some painting to an external wall.
Stithians Centre: The Stithians Centre is at the heart of the Stithians community and is used for a variety of activities from: movie nights, Brownies meeting, and Zumba classes. They need help with varnishing their fences and repainting their main hall.
Children's Hospice Southwest, Truro, Helston, Penzance, or Wadebridge: Children's Hospice Southwest are looking for small groups (3-5 people) to help them process their stock, price new items, and remove old stock and replacing it with newer stock.
Newquay Community Orchard: Multiple outdoor tasks depending on the season, suitable for small or large teams.
10 Acre Woods, Wadebridge: Similar to Newquay Community Orchard, the 10 Acre woods is a great outdoor space which wants to provide a unique environment for recreation and learning and development. Tasks will depend on the season and group size but could potentially include planting of plants and trees, raking leaves, strimming and tidying of woodland.
Beach cleans: Volunteers can either join in with existing picks, or choose a location and do their own. We will coordinate with Clean Cornwall, CORMAC and other organisations to make sure that they area chosen is appropriate and that all materials are provided.
Willow Crafting Centre, St Issey: Volunteers are needed to help with weeding and tidying around the site as well as helping to move the willow around the site.
Gooseberry Bush Nursery, Camborne: (Approx 4 volunteers) Looking for volunteers to help with tidying and clearing their small vegetable garden and also to help sand and repainting a small boat for the children to play in.
St Ives School of Painting: (Small groups of 2-3) Looking for volunteers who can help can assist as studio technicians. Tasks may include setting up, cleaning pallets, paint brushes etc. The school are also looking for a slightly larger group to help with repainting their studio walls.
Cubit Forest School: Looking for groups of any size to help with any number of restoration and renovation projects which are taking place to support the school in Cubit Woods.
Pentiddy Woods: 8 Acres of Community Woodland. Tasks include remoiving slide branches from felled trees, piling brash& clearing brambles. Included in the day is a tour of a totally off-grid straw house and permaculture project. Looking for volunteers to helping during the period of November to March only.
Macmillan Garden or Home Support - Individuals and small teams wanted:
The Macmillan project sees people affected by cancer referred for support with basic gardening or DIY tasks and makes huge difference to their emotional wellbeing. There are several opportunities awaiting volunteers at the moment around the county.
Bodmin: gardening; 4-5 volunteers. Help for a lady who needs assistance with mowing her lawn, digging over the flower beds and trimming overgrown trees.
Helston: gardening; 2-3 volunteers. Help for a lady who needs assistance with removing brambles, weeding her flower beds and moving small trees to a different area of her garden.
If you are interested in any of the opportunities or would like to discuss ways of working more closely with Volunteer Cornwall in your community, please email Colum who is happy to support any school teams - if you can spare the time, they can find placements!
Contact Colum Taylor at Volunteer Cornwall
Tel: 01872 266991
Mob: 07595 202410
Volunteer stories

Our first team of teachers headed out on the 9th April to support a family in Redruth whose 2 year old has leukaemia. We painted the walls, cleared the garden of rubbish, cleaned the paving slabs and planted some flowers. This then allowed the little boy and his 3 other brothers and sisters to have a safe space to play.
These are the before and after pictures of the garden. I would like to take this opportunity to thank our first team for helping this family and spending a day of their holidays working incredibly hard to make such a positive change. We are sure that the children will enjoy this space once the sun is shining!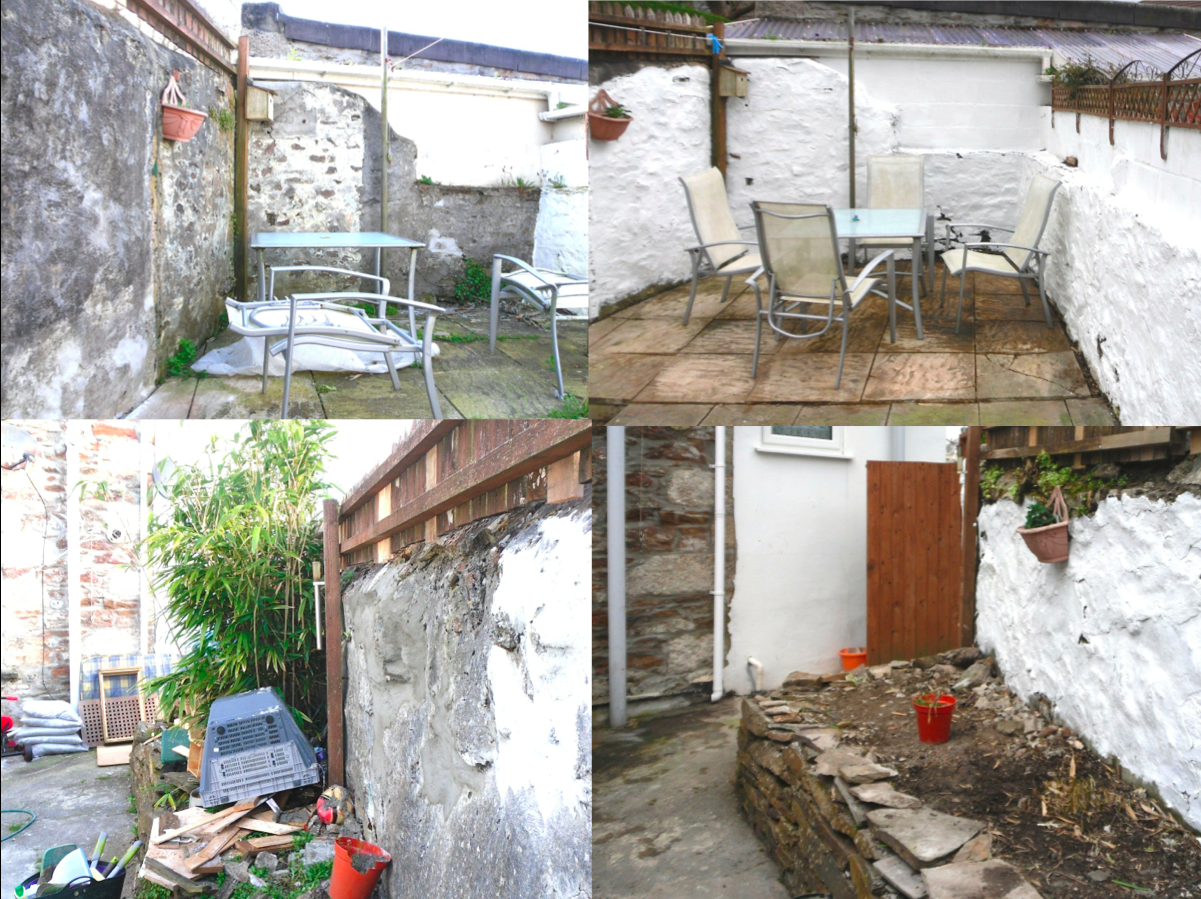 If you would like to get involved in our next project please contact Martin Webb at Volunteer Cornwall
Tel: 01872 266991
Mob: 07595 202410
It meant so much to see all the garden tidied up and back to the way I liked to have it before I was struck down with my illness
It was a good show of support when I needed it
It meant the world to us. The garden was unusable and now both we and our dog have full use of it. It has made an incredible difference to us. We really appreciate that they gave their time to help our family
I am absolutely delighted and next summer I hope to be sitting out there and enjoying my yard
Im sure that you will not be able to comprehend the positive impact this will have on my daughters life
The best team building day I have ever done