Cancer should be just a word, not a sentence.
The School Workforce Health and Wellbeing Project is commissioned and continually funded by Macmillan Cancer Support.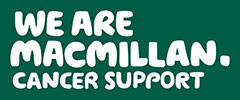 The Macmillan Mobile Service is visiting towns in West Cornwall and St Austell this month – if you are in the area, please feel free to pop in and say 'Hello' and get support or resources for your team.
No appointment necessary. Come and talk to our friendly specialists
---
DID YOU KNOW
The SWHW project has a unique referral process in place with local cancer support services. If a patient has concerns regarding the emotional wellbeing of their children following a diagnosis, cancer specialist can contact the SWHW to see if the child's school has a Health & Wellbeing Champion in place. The champion can access a range of support from the co-ordinator including teaching toolkits, difficult conversations training and resources for supporting young people through difficult times.
To be able to make the most of this and ensure support can be accessed by your school staff quickly, make sure you have trained Health & Wellbeing Champions in place.
Agencies
. Self-Help Resources
Agencies
If you've been diagnosed with cancer, or a loved one has, you'll want a team of people in your corner supporting you every step of the way.Macmillan provide practical, medical and financial support and push for better cancer care. They are Macmillan Cancer Support.Tel: 0808 808 00 00.
The Cove News
The Cove Macmillan Cancer Information and Support Centre is a dedicated facility for people affected by cancer, whether a patient, someone who cares for someone affected by cancer or just simply someone worried about cancer.
Mustard Tree- Located in Plymouth. Mustard Tree offers a friendly space where you can share your concerns, ask questions and receive support from our staff who are professionals or trained volunteers, many of who have personal experiences of cancer. Opening Hours: The drop-in service is available between 9.30am and 4.30pm Monday to Friday.Tel: 01752 763672 Postcode: PL6 8DH.Triangle Outreach Drop in centre- Liskeard Community Hospital- Offers drop in sessions where you can share your concerns, ask questions and receive support from our staff who are professionals. Tel: 01579 335600 EXT 5628 Postcode: PL14 3XD
Cornwall Brain Tumour Support - Anyone affected in any way by a brain tumour diagnosis is welcome to this relaxed and friendly group, a mixture of chat, speakers and sharing of information and experience – with refreshments provided too! Meetings are split between venues in Liskeard and Truro throughout the year and are normally on the second Tuesday of the month, at 11.30am – 1.00pm - full list of dates are on their website click here.
Liskeard meetings are held at The Liskerrett Community Centre, Varley Lane, Liskeard PL14 4AP.
Truro meetings are held at Truro Library, Union Place, Truro TR1 1EP
Cancer Research UK fund scientists, doctors and nurses to help beat cancer sooner. We also provide cancer information to the public. If you are a patient or relative in the UK with a question about cancer, call free on Tel: 0808 800 4040, 9 - 5 Monday to Friday. To talk in your preferred language, ask for our interpreting service.
There are over 200 different types of cancer, each with its own methods of diagnosis and treatment. You can find out more about specific types of cancer by using the above link. The cancer screening programme also allows you to find out about the current screening tests such as cervical screening, breast screening, bowel cancer screening.
SunSafe is an NHS based campaign working to raise awareness of sun safety, skin cancer early diagnosis and prevention in Cornwall and the Isles of Scilly. Working in partnership with Healthy Schools, The Myfanwy Townsend Melanoma Research Fund and Melanoma Awareness Project we are taking real action to reduce the incidence of skin cancer in Cornwall and the Isles of Scilly. SunSafe is here to make you aware of the dangers of the sun and help you to enjoy the sun safely. Read more about this in a press release from Public Health England HERE.
UV-Buddy.com produces a selection of reactive jewellery and accessories to help raise your awareness of ultraviolet (UV) rays whilst you are having fun in the sun. This is a fantastic resource to help you with you PHSE lessons, especially at this time of year, when the sun in shining and sadly skin cancer is rising in Cornwall.
Wear one of their simple and stylish jewellery items or accessories and our special ultraviolet reactive beads will let you know when to apply your sunscreen. Our beads are made of a special plastic material which contain pigments that change colour when exposed to UV light. This is very important as too much exposure to this harmful radiation from the sun can have long term damaging effects on your skin. In partnership with Skcin.org
Self-Help Resources
HSW Sun Safety Campaign Materials 2017
If you would prefer a number of copies sent directly to your school, please email Karen directly.
Macmillan Resources
Macmillan provide an extensive range of self-help resources, please click HERE to view many booklets designed to help you through cancer.
Please also click on the following links for further support and information;
Many people worry unnecessarily that their risk of getting cancer is above average because of their family history. In fact, only 5-10% of cancers are thought to be caused by an inherited faulty gene.We hope the information in this section will help you understand the role of genes in the development of some cancers and answer some of your questions about cancer and genes.
CLICK HERE to review your genetic risk.
If a child/teacher/parent has been affected in your school and you would like support and guidance please contact kkeast@cornwall.gov.uk or call Tel:01872 323 145
These posters are to raise awareness ONLY, if you need HELP NOW please TEL:0808 808 00 00